Yoshitaka Nakatani Photo Exhibition
Tokyo Rhapsody 60's
Dates

Friday, August 27 - Thursday, September 9, 2021

Time

11:00 - 18:00


Sony Imaging Gallery will close at 18:00 until further notice.
Please read prior to your visit.

Japan dug its economy out of the turmoil that besieged the defeated nation in the aftermath of WWII. The postwar was officially declared over in the government's 1956 White Paper on the Economy.
Nothing testified to Japan's economic comeback more so than when the 18th Olympics opened in Tokyo in October 1964. It symbolized the nation's postwar reconstruction.
In the run-up to the games, Tokyo literally changed the way it looked as construction projects moved forward at a quick pitch to build the Tokaido Shinkansen, Metropolitan Expressway and sports venues. The Olympics also opened the doors to international travel, which brought many foreign visitors to the tourist attractions in Ginza and Asakusa, and made the Japanese people feel good about going out again. But, the "party" had both a bright side and dark side.
This exhibition looks at Tokyo in and around Ginza and Asakusa during the 1960s. It plays out like a rhapsody.
Yoshitaka Nakatani
Yoshitaka Nakatani Profile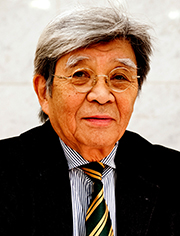 Pen name of a haiku poet:Ryushi (Japanese reading also means "grain" that is used as terminology adopted from photography)
Born in 1937. Native of Hiroshima City. Graduated from Tokyo Junior College of Photography (now Tokyo Polytechnic University) in 1957. After working in the publishing and photography department at newspaper publisher Tokyo Shimbunsha, went freelance in 1960. Has posted numerous reportages, portraits, landscapes, sports photos, photohaikus and other photos in magazines, camera journals, etc.
Photo collections and publications
"Sudden Moments of Joy", "Doto: Okhotsk, Wilderness and Lakes", "Way of the Snapshot", "Passion for Rugby", "Form & Expression in Sports",
"Beautiful Women Athletes", "The No-Side Whistle", "Kagurazaka Story", "Where There's Wiggle: Shinjuku What 1955-2017", "Photohaiku Primer", "Photohaiku: Gokuraku no Art", etc.
* All titles have been translated.
Exhibitions
"60 Years of Sabo", "In-between East and West", "Black Tombstones", "Doto: Okhotsk, Wilderness and Lakes", "Fantastic Soccer", "Light-Up Music Boxes", "Hiroshima 10 Years After the War", "40 Years of Photographing the Tokyo I Love", "Tokara Islands 1961", "Ushigomekagurasaka Now", "Photos × Haikus", "Photohaiku Works", "Japanese Photo Haiku: Gokuraku no Art",
"Doto 1966 - 1975", "Where There's Wiggle: Shinjuku What 1955 - 2017", etc.
* All titles have been translated.
Awards and titles
Selector, "Photohaiku!" Photo Competition and Photo-Asahi "Photohaiku" New Photographer Award, "Camera Art" (1964)
Honorary Member, Japan Professional Photographers Society and Association Japonaise de la Presse Sportive. Trustee, Metro Cultural Foundation. Member, Kanto Headquarter Member, All-Japan Association of Photographic Societies.
Teaching positions at the JCII Camera Museum, Metro Cultural Foundation, etc.
* Above works (from left) :
The aquariums out front the Sony building drew crowds. (Chuo City / Sukiyabashi 1966)
Completed Metropolitan Expressway Route 5 and Nippon Budokan (Chiyoda City 1964)
Ginza bids Olympics visitors a warm welcome. (Chuo City / Ginza 1964)