Masato Ono Photo Exhibition
Cub-jo
I made my way to this "island of firearms and rockets" because I had heard tell of the yokayomejo (local dialect for a "beautiful, good natured woman"). But, what caught my eye when I landed were these high school girls racing around on Honda Cubs. I couldn't believe what I saw.
"Whose motorcycle is that?"
"Mine."
"So … was it a present from someone?"
"No, it was bought and paid for (cause I needed it)."
"Do you like the Super Cub?"
"Yea, everyone rides it."
"What do you like about the Cub?"
"It's got horsepower and gears, and it's cute."
Known for being strong-willed and reliable workers, the women of Tanegashima are considered the best choice for a bride amongst the nearby islands. I feel I got a glimpse of that in seeing these tough high school girls who have paired up with the "cute" Honda Cub.
Masato Ono Profile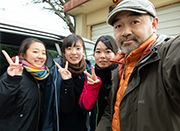 Born in Aichi Prefecture in 1968. Became a freelance photographer in 1999 when he opened a photo studio with his wife. Takes portraits, landscapes and photos of performing arts, teaches and lectures about photography, and writes for photography magazines for a living. In recent years, has exhibited works that express mankind's universal relationship with the natural environment at photo-art festivals in France and elsewhere.
2013

"Shinra" photography exhibition, Epsite

2015

Yakushima Photography Festival, guest artist
"Haniigama" photography exhibition, Haniigama Gallery
Salon de la Photo à Paris photography exhibition, selected photos from "Haniigama"
"What's Up Photodoc" international documentary photo fair (Paris), selected photos from "Shinra" shown at the Yakushima Photography Festival booth

2016

Les Rencontres Arles Photographiques (The Arles Photography Festival), satellite exhibition of selected photos from "Shinra"

2017

"Kyoto Graphie" photography exhibition, 2017 KG+ Associated Program, selected photos from "Rehab" shown at the Yakushima Photography Festival booth
Institut Français Japon-Kyushu photography exhibition, selected photos from "Rehab" shown at the Yakushima Photography Festival
Les Rencontres Arles Photographiques (The Arles Photography Festival), satellite exhibition of selected photos from "Kirara"

2018

Les Rencontres Arles Photographiques (The Arles Photography Festival), satellite exhibition of selected photos from "Cub-jo" and "Blue Drifting"