Hidekazu Maiyama Photo Exhibition
BOTANIZATION
Dates

Friday, July 16 - Thursday, July 29, 2021

Time

11:00 - 18:00


Sony Imaging Gallery will close at 18:00 until further notice.

There is a river bank I often go to.
Whenever it pours down rain, everything gets swept away and the river turns into a giant holding pond until the stormwater can be digested downstream.
It's unmanaged, so the parts where people don't go are covered in reeds and grasses. The inundation that comes with every heavy rain decimates the vegetation and deposits debris and mud, a process that inversely makes the soil fertile.
The hassocks and wild flowers then sprout again and eventually restore the community. It's a good example of how repeated destruction has honed a renewable energy.
As natural as it is, this riverside landscape has a surreal aura to it that, interestingly, lets you forget the hustle and bustle of everyday life.
Hidekazu Maiyama Profile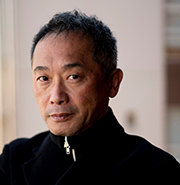 Hidekazu Maiyama became a freelance photographer in 1986. He is active in a wide range of visual media with a special focus on portraits, including advertisements, CD jackets, magazines, and photo books.
He periodically holds solo exhibitions and has published several collections of his works.
Encouragement Award at the 22nd APA Exhibition
Regular Member of the Japan Advertising Photographers' Association since 2004
Guest Professor at the Faculty of Art and Design, Kyushu Sangyo University since 2014
1990

"Sway" Tokyo Designer Space

1994

"Force" Studio Ebis Photo Gallery

1995

"Force" Nishitetsu Solaria Plaza Zefa

1998

"Alive" + "Sophia" Tower Records Shibuya

2003

"People" Le Deco

2004

"Garden" Kodak Photo Salon Sapporo

2006

"We Love Pandas" Contact Gallery

2009

"Dummy" Contact Gallery

2011

"Shamrock Dream" Gallery E&M Nishiazabu

2012

"Photographs 1986-2012" Museum of Kyushu Sango University
"Die Stadt von Engels" Gallery E&M Nishiazabu

2014

"Infinity vs Nine Photo Stories of MONA" Group Exhibition, Shibuya Parco Museum

2015

"Noir et Blanc" Jimbocho Gallery

2016

"Zoo" Tokyo Arts Gallery
"Progress" Gallery E&M Nishiazabu

2017

"The PAST and FUTURE Gallery Enzo Kanazawa
"Zoo - House of Giraffe" Tokyo Arts Gallery

2018

"I'm Here 1986-2018" epSITE
"A Moment" Sison Gallery

2019

"Force 1994" Gallery E&M Nishiazabu

2021

"Sign" Jimbocho Gallery
Publications
1998

Alive

2003

People

2004

Garden 1

2012

Die Stadt von Engels

2016

Progress