FeliCa SAM for reader
RC-S500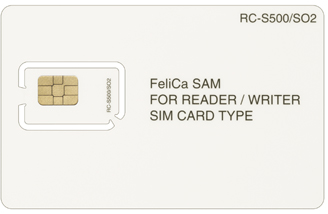 AES support
High security
High-speed communication
Compatible with current products
The RC-S500 product is the FeliCa™ SAM for FeliCa readers that support AES and DES encryption systems.
This product enables various terminals to utilize FeliCa security functions for a wide range of applications.
Overview
The RC-S500 product is a FeliCa SAM (Secure Application Module) for FeliCa readers that use AES/DES encryption systems. It also provides the necessary functionality for secure access to FeliCa Standard cards that use AES/DES encryption systems. To develop a FeliCa secure reader system, simply insert this product into the SIM card slot of the reader terminal.

Features
Support for the new-generation AES encryption standard
For encrypted communication between a card and a reader, as well as between RC-S500 and a reader, further enhanced security is realized using the AES encryption system in addition to the existing DES encryption system.
High level of security
The security IC chip mounted in this product has acquired Common Criteria (ISO/IEC 15408) EAL5+ certification. By storing the encryption keys and security algorithm in the IC chip, it is possible to create a high-security system with this product.
Fast data communication
The RC-S500 product can communicate with a reader, in which this product is inserted, at a maximum data transfer speed of 1.25 Mbps*1, suitable for systems that require fast processing.
*1 With the input clock running at 10 MHz.
Compatibility with current products ensured
The RC-S500 product is compatible with RC-S251 (in terms of commands*2 and electrical characteristics) to facilitate transfer to systems that use AES cards.
*2 Not including control commands, such as initial settings, and so on.
Main Functionality
RC-S500
Communication standard
・RC-S500 command transmitted and received on the Command / Response ADPU conforming to ISO/IEC 7816.
Security
・Encrypted communication between RC-S500 and reader
・Encrypted communication between RC-S500 and card
Key management
・Managing System Key, Area Key, Service Key and Group Key for the FeliCa card
Access to FeliCa card
・Mutual authentication with FeliCa card
・Encryption of card command packet
・Decryption of card response packet
・Calculation of card response time-out time
・Generation of command package
・Generation of Group Key
Product Specifications
RC-S500
External interface / transmission method
Conforms to ISO/IEC 7816 (T=1 protocol)
Input clock
1 to 10 MHz
Communication speed
Max. 1.25 Mbps (Input clock:10 MHz)
Operating temperature / humidity
-25℃ to +85℃ (10% RH to 90% RH)
Card external dimensions (plug section)
ISO/IEC 7810 ID-1/000 card (25 mm x 15 mm)
Non-volatile memory
Write endurance
100,000 times
Maximum key registration
512(System/Area/Service Key, DES/AES total)
32(Group Key,DES/AES total)
Operation voltage / consumption
Support ISO/IEC 7816 Class A(5V), Class B(3V)