Reproduction of the acoustic field in Immersive audio studio with high precision using headphones
360 Virtual Mixing Environment (360VME) is a technology that accurately reproduces the acoustic field of a immersive audio studio consisting of multiple speakers with headphones using proprietary measurement technology. After just one measurement in the studio, the optimal environment for immeesive audio production can be taken anywhere with headphones and 360VME software. Your immersive audio workflow and quality will take on a whole new dimension.
Technology behind 360VME
How to use
360VME measurement studio
To use 360VME, you need to visit a measurement studio and create your own profile using a dedicated microphone.
Please inquire about measurement dates and costs through the studio's website.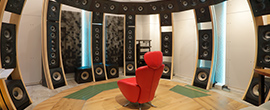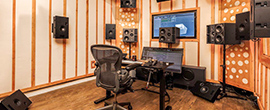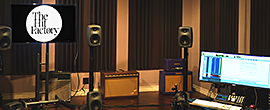 Support environments
<PC>

macOS 10.15.7 or later

Windows 10 or later

Support for the Windows version is planned for fall 2023.
<Compatible headphones>
Basic setup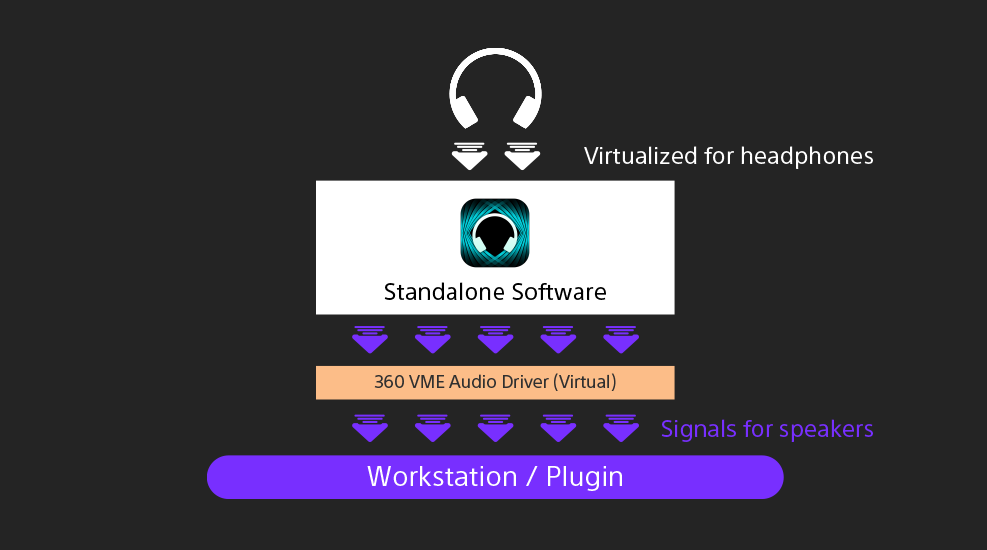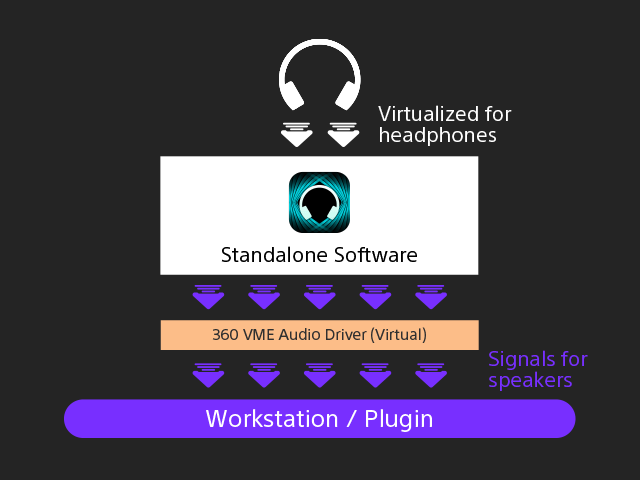 FAQ/Notes
After completing the measurement at the measurement studio, the studio will distribute 360VME software in installer format.

The use of 360VME service requires the fee of creating a profile based on measurement at the studio. Please contact the measurement studio for details.

The profile is measured by test sound. You sit at a listening point in the measurement studio and wearing a specific microphone and compatible headphones . The time difference in the arrival of the measured sound to the ear, the volume difference, and the reverberant component are measured. You will listen to the measured sound several times as guided by the studio engineer, and the average time required is about 30 minutes.

360VME profiles are valid for 36 months from the date of creation. After the expiration date, the profile will no longer be available, but an expiration renewal service is planned for the future.

360VME software receives audio signals via a virtual audio driver and works as standalone. So, it can be connected to other software that can output multi-channel signals to the audio driver, but this does not guarantee that it will work for individual tools.

The number of speakers in the environment that can be measured corresponds to up to 16 channels. Please contact the studio for information on the measurement environment.

Currently, measurements can only be taken at designated 360VME measurement studios; for information on joining a 360VME measurement studio, please contact us using the inquiry form at the bottom of this page.

Please contact the studio where the profile was measured for more information about the profile measurement.
For information on how to use 360VME software, please also refer to the software manual on this page.

Some users may experience dizziness or car sickness-like effects after prolonged use. If you feel any of the above during use, please discontinue use.

Please access the following and read the contents of the license.
To get more information on creating 360 Reality Audio contents,
contact us by sending the inquiry form
Inquiry Form