LDAC is an audio coding technology developed by Sony that enables the transmission of High-Resolution (Hi-Res) Audio content, even over a Bluetooth® connection.
Unlike other Bluetooth compatible coding technologies such as SBC, it operates without any down-conversion of the Hi-Res Audio content*1, and allows approximately three times more data*2 than those other technologies to be transmitted over a Bluetooth wireless network with unprecedented sound quality, by means of efficient coding and optimized packetization.
*1: excluding DSD format contents
*2: in comparison with SBC (Subband Coding) when the bitrate of 990kbps (96/48kHz) or 909kbps (88.2/44.1kHz) is selected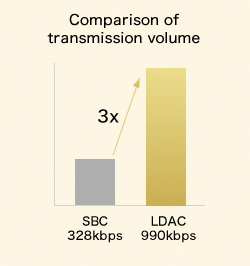 Loss in sound quality during transmission regarding current Bluetooth(SBC).
Down convert hi-res (96kHz/24bit) to CD (44.1kHz/16bit)
Then, SBC codec transmits less volume of the converted data
On the other hand, LDAC, the technology from Sony, achieves the sound quality maintenance at the time of transmission by the following points.
3x the data transmitted compared to existing wireless technology
Possible to maintain maximum bit depth and frequency of 96kHz/24bit
High compression efficiency and reproduction