Arisa Kasai / Shizuka Minami / Maiko Miyagawa Photo Exhibition
Dancing Extraordinaire   ~Japanese Entertainers under the Pandemic~
Dates

Friday, December 17, 2021 - Thursday, January 6, 2022

11:00~18:00




Temporarily closed from Wednesday, December 29, 2021 - Tuesday, January 4, 2022
The entertainment world was dealt a big blow by the Covid-19 pandemic. One after another, theaters either postponed or outright cancelled performances because of their inherent inability to avoid the 3 C's. According to estimates released by the Pia Research Institute on October 27, 2020, Japan's 2020 performance events market, which includes live concerts, stage performances and the like, was just 130.6 billion JPY, a painful 80% lower than the previous year.
Amidst the lockdown malaise, many artists looked inward. Dancers launched online lessons, traditional Japanese dancers arranged their next performances, tap dancers quietly trained, etc.
We felt an affinity to that forward-looking attitude. As freelances ourselves (Arisa Kasai Shizuka Minami and Maiko Miyagawa), what these artists were doing was by no means strange to us. When the first state of emergency was declared, all of our jobs were put on hold. But, since we like taking pictures, we are not going to stop taking them just because there is no job. So, after giving it some thought, we decided to photograph these artists dancing behind the scenes at home, in the rehearsal room, etc.
Beginning in July 2020, we took portraits of 18 groups of artists over a period of about 7 months under the concept of "capturing the 'present' during the Covid-19 pandemic in how it was characterized by the way routine meshed with exigency". We were fortunate to see and film emotions and performances that would have otherwise never come to light, because of how the state of emergency rekindled passions for the stage.
The artists took a positive approach to this project. For some, it was exciting to be photographed at home for the first time, while for others, it just felt good to perform in front of someone again. We are truly grateful for that and the opportunity to photograph them.
"Dancing Extraordinaire" documents entertainment during the Covid-19 pandemic. We hope these works will remind viewers just how much fun the entertainment world is.
Arisa Kasai,Shizuka Minami and Maiko Miyagawa
Preview Video (In Japanese)
Born in Yokohama. Graduated from the Department of English Language and Literature at Aoyama Gakuin Women's Junior College and the Department of Photography of the College of Liberal and Creative Arts at San Francisco State University. After returning to Japan, apprenticed for renown portrait photographer Eiichiro Sakata. Has been working freelance since 2010. Based in Tokyo, is widely active with a special focus on portrait, travel, fashion, commercial and catalog photography. Does cinematography parallel to photography. Also produces and shows her personal work in Japan and abroad. Recipient of the 63rd Asahi Advertising Award and the Kyushu Sangyo University Award at the 16th Hikoma Ueno Awards.
Born in Tokyo in 1979. Graduated from the Department of Aeronautics and Astronautics at Tokai University's School of Engineering and thereafter completed a 1-year program in Photo Journalism and Documentary Photography offered by the International Center of Photography in New York, USA. Since December 2008, has photographed professional sporting events like the Women's PGA tour. Includes Kyodo News, sports magazine "Sports Graphic Number", golf magazine "Weekly Golf Digest" and other big name publishers amongst her main clients. Has contributed photographs to the popular American sports magazine "Sports Illustrated". For more than 10 years, has continuously photographed festivals around the world as part of a long-term personal passion and project.
Belonged to the Photography Club in high school. Graduated from the Department of Photography of Nihon University' College of Art. After gaining experience as a still photographer for movies, apprenticed for performing arts photographer Hidemi Seto. Is currently active as a freelance photographer based out of Tokyo. Photographs mainly theatrical performances, musicals, dancing, concerts and festivals. Member of the Japan Stage Photographers Society.
* Above works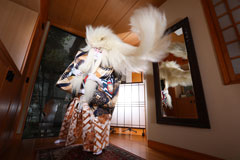 Takamasa Fujima, traditional Japanese dancer
September 29, 2020/Entry hall to rehearsal room/Maiko Miyagawa
Chiaki, dancer
August 5, 2020/Neighborhood community center/Shizuka Minami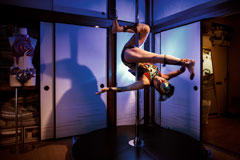 Yamadori, pole dancer
January 12, 2021/At home/Arisa Kasai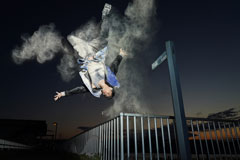 Hayate Masao, action film actor and director and parkour coordinator
November 11, 2020/Funabashi Shinsui Park, Chiba Prefecture/Shizuka Minami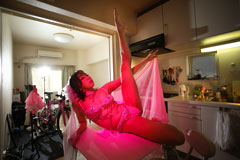 Mao Shoda, stripper
January 26, 2021/At home/Maiko Miyagawa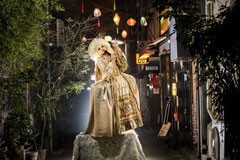 Babienobitch, madam, drag queen and showgirl at the gay bar "Marohige" in Shinjuku 2 Chome
February 5, 2020/Alley in Shinjuku 2 Chome/Arisa Kasai