Hanako Kimura Photo Exhibition
SIGNS FOR [

]
Dates

Friday, November 20 - Thursday, December 3, 2020

Time

11:00 - 18:00


Sony Imaging Gallery will close at 18:00 until further notice.

statement for "SIGNS FOR [
]

"

Walking about town, out of the blue, I spotted these billboards with nothing on them. There they were, big meaningless blanks unabashedly in plain sight where everyone could see them.
They struck me like monuments placed there purposely to educate us all that "everything in this world, however useless as it might seem, has a place".
With these works, I have tried to more explicitly visualize that message by focusing on these overheads voids, putting them higher than usual on the wall and illuminating them with a blue light.

Hanako Kimura
Commentary for "SIGNS FOR [
]

"

The first time I saw Hanako Kimura's work was at a the "Onaeba" photo competition. The vibrant colors in her snapshots caught my eye. Right out of college, she went to work doing commercial photography for a camera studio, but these first photos of hers were from when she just started getting into photography as a fine art.

It takes a lot more than you think to juggle a job in commercial photography and pursue the artistic aspects of photographic media at the same time. That's because the end-goals are complete opposites, even if we are talking about the same photograph. Though the act of taking a picture is the same, the focal point of a commercial that is meant to visualize what the client wants is totally different from that of a photo that encapsulates the thoughts of the artist him/herself. Kimura seems to enjoy that kind of dichotomy.

With her "SIGNS FOR []", Kimura captures the unabashed presence of blank billboards and illuminates them with blue lights mounted on the wall. She was awarded the Grand Prix for this series at UNKNOWN ASIA 2018, an event for Asian artists. There is a philosophical concept at work here: the question of whether things have a "meaning or not" loses its relevance after pondering a blank billboard at length. She apparently adds the blue neon because it tempers the mental arousal. But, you do not have to get into any of that to notice a Thomasson-like *1 void and out-of-place aura in her work that cause these images to stick in your head. Still, they are too sedate and serious to call Thomasson. In fact, illuminated under the blue light, it is hard to put a finger on what is going on. These are the kind of images that elusively slip through any attempt to box them into a category. Personally, I see them as portraits of the times.

It will be interesting to watch how Kimura evolves.

Tomoka Aya, The Third Gallery Aya

*1
Thomasson, also known as Hyperart Thomasson, refers to a form of conceptual art discovered by Genpei Akasegawa. Akasegawa coined the term "hyperart" for objects of no practical use that look like pieces of art although they were never intended as such and were, therefore, even more art-like than art itself. Thomasson specifically describes relics or structures within the greater concept of hyperart.
Hanako Kimura Profile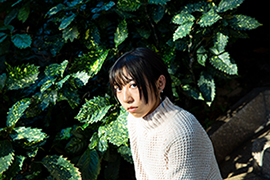 Originally from Kyoto Prefecture, currently lives in Osaka City. Graduated in fine arts from Doshisha University's Faculty of Letters. While working as a commercial photographer taking pictures for advertisements and magazines, began creating more "personal" works on the side in 2011. Creates conceptual works around a core statement about the vast gray zone that lies between opposites - the argument of whether one or something "exists or not" being a recurring theme. Has in recent years sought other modes of expression than photography including 3-dimensional works, collages, drawing and installation art.
Awards
2020

2nd Place, National Awards Category - Japan, Sony World Photography Award 2020

2018

Grand Prix, Judge's Prize x 4, Reviewer's Prize x 5, UNKNOWN ASIA 2018
Project Award, 5-Year Progression Photo Contest, Hobo Nikkan Itoi Shimbun

2017

Judge's Recommendation (Selected by Atsuki Kikuchi), 16th 1 WALL Photo Contest

2013

Award for Excellence, KYOTO PHOTO AWARD 2013

2012

Reviewer's Award x 2, Onaeba Vol. 11
Exhibitions
2019

"WFD x Auction Center Taipei" group exhibition, Auction Center Taipei, Taipei
"ART OSAKA 2019" photo fair, Hotel Granvia Osaka, Osaka
"ON/OFF PARKING LOT PROJECT" art fair, OCT Loft Creative Culture Park, Shenzhen
"THE STORIES of ʻUNKNOWN ASIA'" group exhibition, THE STORIES, Osaka
"Wonder Foto Day 2019" art fair, Songshan Cultural and Creative Park, Taipei
"ART FOUND 04" art fair, The Jam Factory, Bangkok

2018

"UNKNOWN ASIA Art Exchange" group exhibition, Daibiru Honkan, Osaka

2016

"Photos in the Garden Vol. 2: Phosphene" solo exhibition, Nakanoshima Spinning, Osaka
"Photos in the Garden Vol. 1: Illusionary Prosthetics" solo exhibition, Gallery Main, Osaka

2013

"KYOTO PHOTO AWARD Winners" 2-person exhibition, GALLERY 9, Kyoto
"Selected Photographers" Onaeba winners exhibition, 72Gallery, Tokyo

2012

"Kimura ʻCrossover'" 2-person exhibition, Photo Galley Ittosha, Osaka
Gallery Talk with Ihiro Hayami (In Japanese)