Mana (Manabu Nomoto) Photo Exhibition
Planet Bonin: Memories of Paradise
Upcoming Gallery Talk
The gallery will be welcoming Manabu Nomoto to talk about his works.
Date / Time

Saturday, June 9, 2018 16:00 - 16:45
Saturday, June 16, 2018 16:00 - 16:45

Place

Sony Imaging Gallery Ginza (6F GINZA PLACE)
Free admission. No reservation required.
Gallery Talk may be recorded for archival purposes.
No seating provided.
One thousand kilometers south of Tokyo.
Floating as an isolated arc in the Pacific Ocean is a subtropical island chain that is actually a part of Tokyo Metropolis, and holds wondrous, world-class natural beauty.
There is no airstrip. You roll on the waves for 24 hours, spending the night on the Ogasawara Maru, the liner that sails from Tokyo once in every six days. That is the only way to get there. Even today when 24 hours will get you to the other side of the world by jet, it takes a whole day's journey onboard ship to reach this out-of-the-way realm. These are the Bonin Islands, a World Natural Heritage Site. They are a paradise.
The Bonins consist of more than 30 larger and smaller islands, extending for 400 kilometers from north to south. Also known as the Ogasawara Islands, they include, from the north, the Mukojima Group, Chichijima Group, and Hahajima Group which are the core of the Bonin Islands, and the rest of the Ogasawara archipelago including the Volcano Group and nearby islets, and the islands of Nishinoshima, Minamitorishima and Okinotorishima. Undersea volcanic activity began in the area about 48 million years ago as the Pacific tectonic plate subducted under the Philippine plate, triggering the formation of undersea volcanoes that were later uplifted by crustal deformation, creating islands. Having never been connected to a continent, the Bonins are true "ocean islands."
Numerous plants and animals found their way across the vast ocean to the isolated Bonin Islands, and took hold and spread there. Over time, many changed their shape or color to adapt to local habitats, following unique evolutionary processes and forming distinctive ecosystems. On a tiny land area amid the open ocean, the Bonin Islands host a very diverse array of plants and animals, including some species that live nowhere else. The Bonins have been called "the Galapagos of the East." The Bonin Islands also have special geological and geographical value, as the only place in the world where it is possible to observe above ground the process of the birth, growth and formation of arc islands, which is the basis for continent formation. These remarkable samples of the earth's history reveal how continental crust evolves from oceanic crust.
These little islands afloat in the Pacific Ocean are ringed by ocean-carved rock faces, and their patterns of sheer cliffs, oddly shaped rocks, and pillow lava, along with rare underwater karst landforms, produce scenes of spectacular beauty throughout the islands. The Ogasawara Islands were registered as a UNESCO World Natural Heritage Site on June 23, 2011.
Having previously live several years in Hawaii and traveled extensively to make photos, I was highly astonished on my first visit 25 years ago to find that such a marvelous and enchanting place exists within Japan. And it is actually a part of Tokyo Metropolis. I fell captive to the charms of the islands during my first stay. Thereafter I made frequent sojourns, and before I knew it I had set out to capture the loveliest forms and moments of the various aspects of the islands. I ended up moving to the Bonins, and making them my lifework. I am still shooting regularly.
Superb scenery created by nature over incredibly long periods. Unique life forms seen nowhere else on earth. Gloriously beautiful sunrises and sunsets. A million stars shining in a perfectly clear and unpolluted night sky. Dolphins and whales swimming freely in the gorgeous "Bonin blue" sea. I never tire of the changing scenes, even on one small island, even if I watch the same things or shoot in the same places day after day. After 25 years of camerawork, I only want to see more, know more, shoot more of Planet Bonin.
I hope you'll enjoy this experience of the world-class natural realm that is part of Tokyo Metropolis.
Mana (Manabu NOMOTO) Profile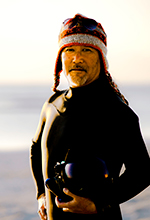 Photographer / Filmmaker
Resident of Chichijima, Bonin Islands
Left Japan to live in Hawaii in 1986, and began freelance photography in 1988. Began frequently visiting the Bonin Islands from 1993, then made photographing and filming the Bonins - now a World Natural Heritage Site - his lifework for 25 years. His work appears frequently in magazines and on television.
In addition to photography and filming, he is actively involved in initiatives to protect his chosen subject, the environments of Planet Earth.
Member, Photographic Society of Japan