Picturing how smartphone cameras
should evolve
Now that everyone takes photos on smartphones,
and ways of taking them continue to change,
what's the most satisfying shape for smartphone cameras?
And how should these cameras evolve?
Xperia is a pioneer in answering these questions.
Camera Design
〈 Xperia Z1 〉

Enhancing
smartphone cameras
Image display is one area where the Xperia Z1 excels. It uses technologies from BRAVIA™ TVs, such as Triluminos™ Display for mobile hardware and resolution-enhancing X-Reality™ for mobile image processing. These advances are paired with a much more powerful camera. High-performance G Lens is introduced, drawing on technology and expertise from Cyber-shot™, α™, and other Sony digital camera lines. Now photos can be captured and enjoyed in hi-res splendor all on the same smartphone.

Superb image quality
behind a flat surface
Adding a high-performance lens clearly requires more space for internal components. Manufacturers normally resort to a protruding lens structure, but the Xperia Z1 had to look attractive from any angle. Meetings with the development team produced a bright, wide-angle lens that could keep the surface flat. An elegant silver ring encircling the lens indicates the phone's extraordinary shooting capabilities.
Camera User Interface Design
〈 Xperia Z1 〉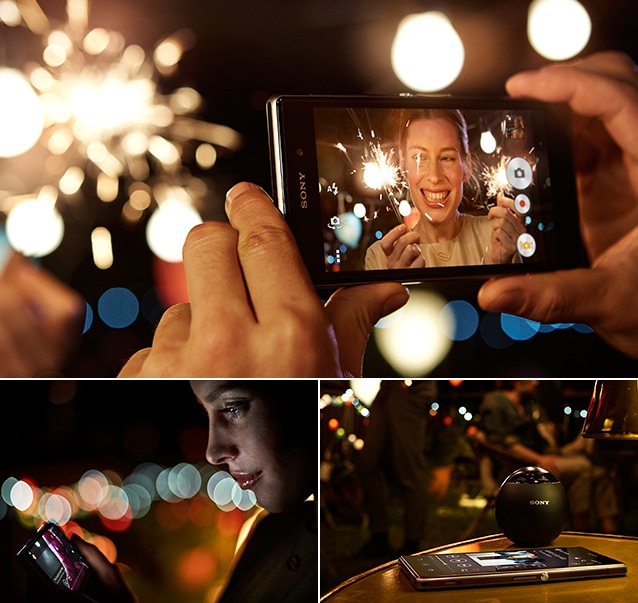 A new old friend,
thanks to its high performance
Camera UI was also completely redesigned in Xperia Z1. Instead of merely adding a high-performance camera, we made camera functions accessible to more people. We thought about what functions are truly needed in a smartphone, as well as the best ways to use them, all to offer a fresh experience in Xperia. Using such an unprecedented camera should be easy and enjoyable, and that's why this high performance is accessible.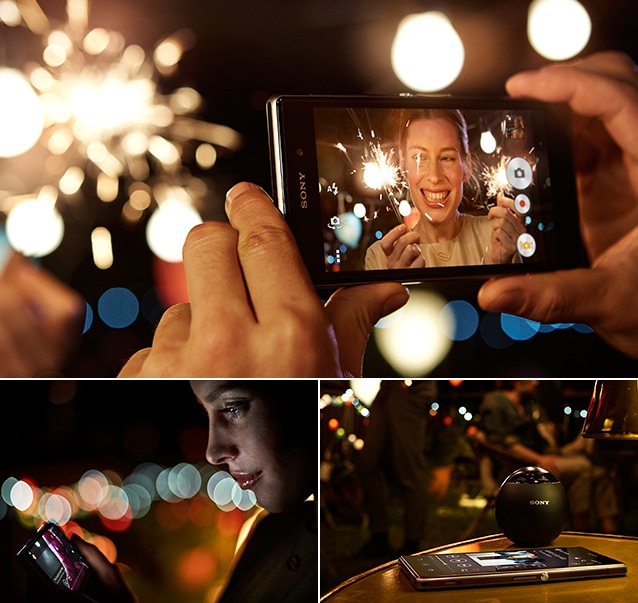 Smart
×

Social

Getting ready in an instant is not the only requirement in a smartphone camera with you every day—it must be part of a larger experience that includes easily checking and sharing your shots. This thinking led to the Smart × Social concept. You can simply press the shutter button for beautiful shots you'll want to share, avoid missing the perfect moment, and even read information about what you have shot, all without thinking about camera settings. Easily add comments to these great shots and share them right away. As we linked camera functions to the versatility and connectivity of a smartphone, we began exploring these goals in UI and app development.

Modes designed
from the ground up
Shooting modes are the most basic aspect of the camera experience, and that's where we made the most effort in UI design. Shoot, view shots, and choose what to do with them—simplifying this series of actions guided us in developing a new UI. We sought extreme simplicity in each shooting mode, where only essential functions are displayed. Main buttons are grouped within easy reach of your right thumb. Buttons are also conveniently large and icons are recognizable. From layout to styling, these details were perfected by nearly 1,000 tests, creating an interface that users found most convenient.

A ready palette of options
Xperia Z1 also expands the boundaries in shooting modes. The newly updated modes allow you to choose how you'll use the camera, instead of choosing settings or functions as you would on most digital cameras. By choosing experiences instead of specific settings, you'll go straight to how you want to shoot instead of thinking about complex settings. What's more, camera apps can be added within your favorite modes. No need to start the app separately each time—just access the app from the shooting mode. More apps are coming soon, and it will be easy to customize your camera by adding them.
New to enjoy:
shooting and sharing
The Smart × Social concept inspired new apps such as Social live and Info-eye™, which let you easily share your shots. Performance advances in the Xperia Z1 also allow apps never before possible on smartphones, such as Timeshift burst and AR effect. A variety of apps broadens the appeal of shooting and invites you to share your shots, taking advantage of the connectivity of a smartphone camera to provide new experiences. That's the Xperia Z1.
Xperia brings Sony's collective expertise to smartphones
The power of their design comes from how it extends
beyond the products themselves to create new experiences under the Xperia name.