Chapter 4
Further expansion of
Sony's professional audio products.
The PCM-3348 Digital multi-track recorder became the world standard in the 1990s.
Sony also produced professional audio products in other categories such as digital effects,
condenser microphones, digital consoles for studio recording, and many others.
Among them, there are still some of these legacy models being used at the front line even in the 2020s,
due to their high quality and combination of features appropriate in music production situations.
In this chapter, we share some interviews with users from both Japan and the U.S.,
asking about their experience with some of these products from the 1990s.
Yuji Sugiyama
He is a big fan of the MU-R201, and an engineer who has worked with numerous artists such as SOFT BALLET, X JAPAN, and LUNA SEA. He had used the MU-R201 in both recording and live situations.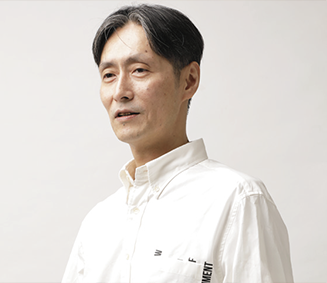 Todd Whitelock
A user of the C-800G, he worked as a senior engineer in the old Sony Music Studios in New York City, and afterwards became a main engineer for legendary jazz trumpeter Wynton Marsalis, as well as many other artists.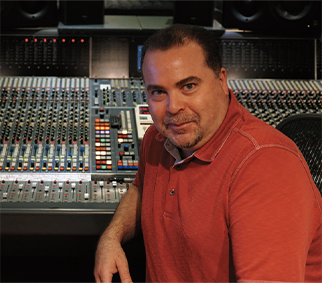 The MU-R201 digital reverb
helped bring new sounds to new genres of music.
In the previous chapter, we've focused on digital multi-track recorders. Sony was also developing professional use digital effects, and released one of the first digital reverbs, and the first to be made in Japan, the DRE-2000 in 1981. It was a fully professional device priced at around $15,000, and became well known in that recording engineer Tamotsu Yoshida had used it along with a successor model DRE-2000A in the recording of numerous works of Tatsuro Yamashita. Following in 1986, a lower priced MU-R201 ($1,199) fit in a musicians' or studios' 19 inch rack with its single rack space size, and new stereo reverb/delay. "I'd fallen in love with it and used it so much." states Yuji Sugiyama, a recording engineer/sound producer who had worked with numerous artists such as Nav Katze, SOFT BALLET, Tokyo Ska Paradise Orchestra, X JAPAN, and LUNA SEA.
"From the late 80s to early 90s, there were always new innovative products released from many companies almost every 3 months, and that was the time when "the fast introduction of recording gear" was happening at the same time as "the fast introduction of music". Back then, I was working in a studio in Osaka and couldn't afford the DRE-2000, but when the MU-R201 was released I had an opportunity to rent both devices. At first, I tried the MU-R201's short reverb, which was popular at the time, and I really got into it. It sounded as if the whole room was resonating and I thought I could get the right ambient sound for the new wave genre from Love and Rockets. When I tried out the DRE-2000 with the same parameters, it sounded very similar. So, I purchased an MU-R201, which was much more affordable. But that still wasn't just a little purchase for me at the time, and I thought I should use it as much as possible. As well, there were several other experienced people who were familiar with professional gear being used in studios, so as a young engineer I felt that to be able to use a new piece of equipment before anyone else was a mission. With the MU-R201 I thought "Let this machine be the one that only I can master!" and I used it in many recording sessions, of course, but also in concert situations with bands like Tokyo Ska Paradise Orchestra."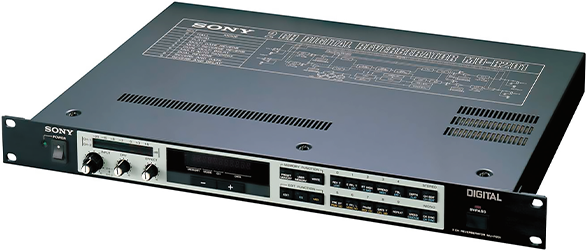 DPS-M7, with a unique natural chorus effect
DPS-F7, even though a filter, it could also be used as a synthesizer
Later on, Sony released digital processors referred to as the DPS series, which were in the same price range as the MU-R201. It was in 1990 that the DPS-D7 digital delay was released.
"Since I had loved the MU-R201 so much, I didn't really think about the DPS-D7 and DPS-R7 reverb. But I was curious, and thought "I bet they're fun to use" and purchased the DPS-M7 modulation effects and DPS-F7 filter units. As a result, I ended up using them a bunch!" states Sugiyama.
"Back then, I liked chorus effects and used either the EVENTIDE H-3000 or AMS DMX 15-80S. Both were very commonly found in most of the studios. I wished, though, to have something that was unique, and something portable that I could bring to live venues, and that made me purchase the DPS-M7. Along with H-3000 or DMX 15-80S, I used it on many different instruments. My most favorite algorithm was the 9th "ENS" (Stereo Ensemble). Compared to the two other pieces of gear, it didn't have such an extreme sound, but rather had a plainer sound, but there were several situations that this unit was best for. For example, with instruments like acoustic guitars and synth pads, for which we wanted to maintain the character of the material, but wanted to add a little bit of depth or make it sound wider while still keeping it sounding natural, the DPS-M7 was a very effective tool to use. Sometimes people have asked me "what did you use for getting that sound?". As well as saying the obvious "chorus ", I loved to use it as a 'subtle' effect which can sometimes only be identified when used on long notes. Today, I use it along with other gear that may give out more extreme effects, but I always think of using it, depending on the material, of course."
Sugiyama also states the following about the DPS-F7.
"In the song "Uwanosora" by Nav Katze (released in 1994), there is a drum riff that sounds like fill-ins, which has an envelope filter on it, also known as a "Touch Wah", and that was the DPS-F7. At that time, it was very common to put wah on drums, but Ultramarine, the electronic duo from England who did remixes, used that effect quite often. For them, it probably sounded very new. Also, the DPS-F7 had an oscillator in it and could be used as a monophonic synthesizer. There is a synth bass in "SINK(2010 mix)" of M-AGE that I remixed, and it is truly the sound of DPS-F7. I can only assume why this particular piece of gear ended up being used in this way, but it made the DPS-F7 interesting and led to the development of the music. We were able to 'find something new' with it."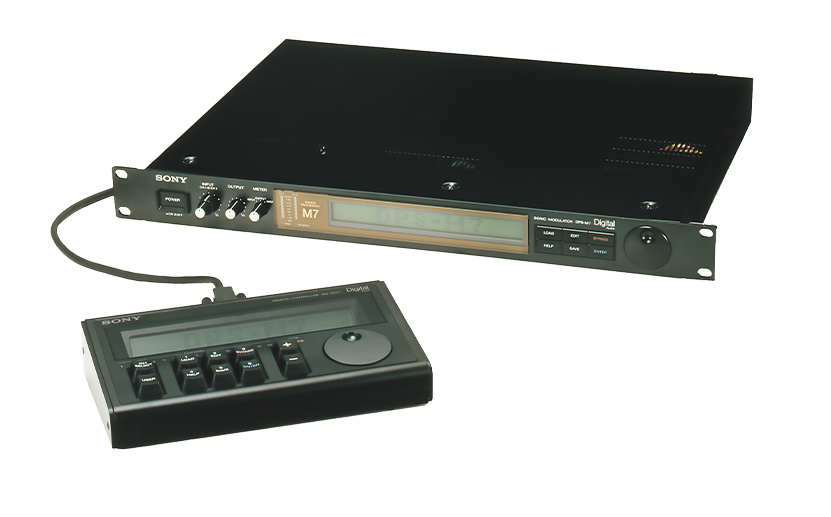 The C800G tube condenser microphone,
loved by big name artists around the world.
Released in 1992, the C-800G tube condenser microphone became widely used by recording studios around the world, and there are still so many artists that are in love with this mic, even today. Todd Whitelock, worked as a senior engineer in the old Sony Music Studios in New York city, and afterwards began working as the main engineer for legendary jazz trumpeter Wynton Marsalis. Todd shared the following with us...
"Detail. Translation. Performance. Reliability. Confidence. Knowing its true characteristics means that no matter who my vocalist is or what instrument I'm recording, that the C-800G's brilliant sound comes through no matter what preamp I use. Every voice or instrument's true essence comes shining through the mix effortlessly. I didn't need to compress or EQ it to get it out in front of a dense instrumentation in the final mix. I first started using the C-800G as a staff engineer at Sony Music Studios NYC in the mid-1990s shortly after it first came out. Vocal sessions with Celine Dion, Mariah Carey, Destiny's Child and then Beyoncé, and Shakira were on the daily schedule then. I was primarily doing Broadway, Classical, and Jazz albums at the time and first used it to record a Grammy winning album "Turned To Blue" by legendary jazz vocalist Nancy Wilson, her very last studio album. I then recorded a Grammy nominated record for famed Soprano Kathleen Battle, "So Many Stars". I remember using it for a Carly Simon album, "Moonlight Serenade" and she said it was the best her voice had ever sounded. I began to put the C-800G out for every solo or lead instrumentalist, as well, soon finding it particularly realistic on acoustic bass, recording legendary player Rufus Reid or saxophonist Kenny Garret, also iconic trumpeter Wynton Marsalis with it, to name a few."
About the reasons why the C-800G has been so highly evaluated globally, Whitelock states the following.
"It came out about the same time digital audio was going mainstream with the advent of the Compact Disc to mass market music distribution. Listeners were finally hearing music with greater dynamic range and clarity than cassettes and LPs afforded. Professional recording studios were recording to multi-track Sony PCM-3348's, and Music Producers and Audio Engineers wanted to take advantage of the digital medium's low noise floor, dynamic range, and greater frequency response which was exposing limitations in some of the popular, vintage microphones of the day. Along comes the C-800G and it checked all the boxes for that higher fidelity capture. It was perfect timing."
Troy Germano who currently runs Germano Studios, also known for running the old Hit Factory in New York also praises this microphone as follows.
"The Sony C-800G was, and is still a premier tube microphone utilized on vocals, from Mariah Carey to Mary J. Blige, Luther Vandross, Kanye West, Kendrick Lamar, Travis Scott and Michael Jackson. The microphone was incredibly smooth, and perfect on many Pop, R&B and Hip Hop artists. It really gets you to a final mixed vocal sound quickly - the sound of a pop record from the beginning. It inspires the artist. In total, I have purchased over 10 C-800Gs."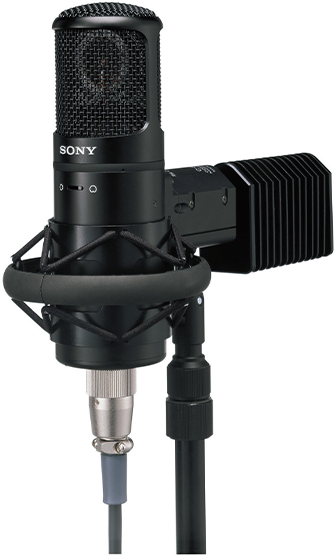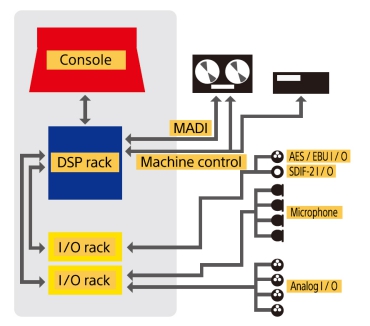 The OXF-R3 "Oxford Console", an advanced digital mixing console of the time.
The DRE-S777 Sampling digital reverb, with its trademark real sounding reflections.
Sony had been the front runner of high resolution sound for CD production with the PCM-1630, PCM-3348 andC-800G. At the 1995 AES show, the fully digital OXF-R3 "Oxford console" was released.
The OXF-R3 had 120 channels, and was developed in collaboration with the British OXFORD DIGITAL team. It was a full sized digital console for recording with 20 bit AD conversion, DSP signal processing, assignable operating knobs, dynamic automation, and many other functions.
Troy Germano talks about the OXF-R3, which was introduced at the old The Hit Factory Studios.
"We loved our Sony Oxford consoles because they sounded amazing and could route signals within the console to a level unlike those of traditional analog consoles."
In 1999, the DRE-S777 sampling reverb was released. It was a very innovative effect that enabled a real and natural reverb by sampling actual reflections in famous concert halls and studios via convolution processing, and digitally used this data, loaded from a CD-ROM, as reverb algorithms. The Hit Factory had several units and according to Germano, "This was a great sampling reverb that we had many of at The Hit Factory."
In the 1990s, Sony expanded their professional audio product offerings further.
In the next chapter, we'll look into their work from the year 2000, up until now.