FeliCa Lite-S Compact Antenna Module
RC-S711
RC-S712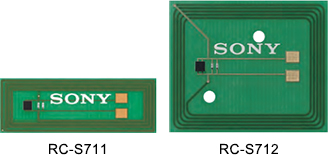 Compact and energy-saving
NFC Type 3 Tag
PAD for an external circuit
The RC-S711 / RC-S712 products are compact antenna modules equipped with a FeliCa™ Lite-S chip compatible with the NFC Forum Type 3 Tag. They are suitable for embedding into consumer digital devices.
Overview
The compact antenna modules equipped with a compact and power-saving IC can be set up easily in consumer digital devices. The RC-S711 / RC-S712 modules have a function to detect magnetic fields in contactless communication and then inform the host, so they are well-suited to connection handover to Bluetooth and Wi-Fi communication with other NFC devices.
Features
Compact and energy-saving design
The RC-S711 / RC-S712 modules are equipped with an energy-saving custom IC chip that operates with a low-strength electromagnetic field.
Compatibility of NFC Forum Type 3 Tag
The RC-S711 / RC-S712 modules support NFC Forum Type 3 Tag operations. Therefore, they can communicate with any reader that is compliant with the NFC Forum specification.
The user memory of 224 bytes is sufficient for most NFC-tag applications and usages.
External PAD for transmission of magnetic field detection signal
The NFC Tag module has a function by which the magnetic field generated by the reader can be detected, and sends a wake-up signal to the host CPU through the wire connected to the external pads.
Mutual authentication function utilizing MAC (Message Authentication Code)
The RC-S711 / RC-S712 modules are equipped with a simple authentication function, unlike the conventional FeliCa chip. By adding a MAC to the data being read, authenticity can be verified by the reader.
Simple file system
Despite the simple non-hierarchical file system structure, two access attributes, including "read-only" or "read-write" of stored data can be set for each data block.
Anti-tearing transaction function and data integrity-check function
This product has anti-tearing transaction functionality to prevent incomplete data update. Even if a data error occurs in the chip, any failed transaction results in the data being replaced by the previously stored data.
Product Specifications
RC-S711
RC-S712
Communication method
Supports ISO / IEC 18092 
(212 kbps / 424 kbps Passive communication mode)
Operating frequency
13.56 MHz
Communication speed
212 kbps/ 424 kbps automatically switchable
Communication distance*1
(when using RC-S330 or RC-380)
10 mm*2
10 mm
Operating temperature*3/ humidity range
(under conditions without dew condensation)
-10 〜 +50℃ / 60% RH or less
Storage temperature / humidity range
(under conditions without dew condensation)
-20 〜 +80℃ / 60% RH
Mass
Approx. 0.20 g
Approx. 0.38 g
External dimensions (W x H)
25.9 mm x 9.0 mm
24.0 mm x 20.0 mm
Module thickness
IC part: 0.90 mm, Base part: 0.45 mm
*1 Communication distance depends on the peripheral environment. Under ideal conditions, this value is unaffected by electromagnetic waves or metallic substances.
*2 When the product is equipped with the antenna equivalent of Poller 0 size, which is a jig to evaluate communication characteristics as specified by the NFC Forum, the expected communication characteristics may not be obtained.
*3 Function assurance humidity. For details, please refer to the product specifications.