Embedded NFC Reader Module
RC-S620/S
UART interface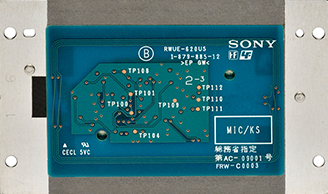 For NFC
Compact and easily embedded
The RC-S620/S is a compact NFC reader module.
Available with UART interface and suitable for incorporating into various devices, such as consumer devices, embedded system devices, and so on.
Main target devices : *PC *PC peripheral devices *AV devices *Access control readers *Loyalty point / membership card terminals
Features
NFC functionality
Reader/writer function for ISO/IEC 14443 Type A / Type B cards and FeliCa cards.
Compact design with integrated antenna
The antenna and control parts are mounted on a single printed-circuit board with dimensions of 43 mm x 70 mm.
This design is less prone to the impact of the installation environment when embedded, and can therefore be embedded in various devices.
High-speed communication (424 kbps)
In addition to 212 Kbps, high-speed communication of 424 kbps is available to communicate with the mobile FeliCa IC chip or FeliCa cards with 424 kbps capability.
Application development environment
SDK for NFC <Reference Implementation> (optional) supporting FeliCa and ISO/IEC 14443 Type A / Type B communication is available as application software development tool for the host controller.
Product Specifications
RC-S620/S
Regulation requirements
[Japan] No.: AC-09001
[USA] FCC ID: AK8RCS620S
[Europe] CE RE(2014/53/EU)
For details of other regulation requirements, please contact us.
Communication distance*1
Approx. 20 mm
Communication method
Conforms to ISO/IEC 18092 (212 kbps / 424 kbps Passive communication mode)
Conforms to ISO/IEC 14443 Type A / Type B
Communication speed
(per card and device)
106 kbps*2, 212 kbps, 424 kbps*3
Carrier frequency
13.56 MHz
Operating temperature / humidity*4
(no condensation)
-10 °C to +40 °C / 20%RH to 90%RH
40 °C to 60 °C / 50%RH or lower
Storage temperature / humidity
(no condensation)
-30°C〜+70°C / 60%RH or lower
External interface
UART 9.6 kbps 〜 460 kbps
(Initial speed at power-on is 115 kbps: speed can be changed on command)
Mass
Approx. 17 g
External dimensions (WxHxD)
70 mm x 3.1 mm x 43 mm
Operating voltage /
Consumption current
(during operation)
DC 3.3 V / Max.100 mA or DC 5.0 V / Max.100 mA
*1 The communication distance depends on peripheral environment. Under ideal conditions, this value is unaffected by electromagnetic waves or metallic substances.
*2 When using ISO/IEC 14443 Type A / Type B cards.
*3 Available only when the card or device to be used is compatible with the 424 kbps transfer mode.
*4 Function assurance temperature