Compact Antenna Module
RC-S111
Flexible Printed Circuit Module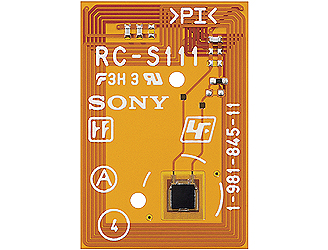 AES supported
Flexible material
RC-S111 is a flexible and thin FeliCa™ Standard compact antenna module. Embedding the module into a device enables the use of various services that require advanced securities and high-speed processing, such as e-money and access control. In addition, the characteristic of flexural tolerance together with the flexible printed circuit makes it possible to incorporate the module in products made of soft materials such as leather, textile, and so on.
Features
Supports Advanced Encryption Standard (AES) algorithm
This product has the high-security FeliCa Standard IC chip supporting AES encryption algorithm. It is suitable for applications that demand high-speed processing and advanced security, such as e-money payment and access control. The IC chip embedded in this product is the world's first contactless IC card chip with embedded software to acquire EAL6+ certification in accordance with Common Criteria (ISO/IEC 15408), the international standard for evaluation criteria in IT security.
Compact and flexible material
With its downsized antenna and compact shape, the module can be incorporated in a broader range of products.
This product is made from a thin and flexible material, so it can be incorporated in products made from leather, textile (fabric), rubber, silicone, and so on. It can also be incorporated in curved products*1 such as wristbands and bangles.
*1 Curves with a flexible volume of 2.2 mm or smaller in a longitudinal direction (curvature radius R=35 mm or larger) are recommended to achieve the communication performance.
Sample images of products incorporating this module

Product Specifications
RC-S111
Flexible Printed Circuit Module
Communication method
Conforms to ISO/IEC 18092 (212 kbps or 424 kbps Passive communication mode)
Communication distance*1
70 mm (when RC-S462C or RC-SO12C is used)
35 mm (when RC-S462B or RC-S012B is used)
5 mm (when RC-S330 or RC-S380 is used)
Operating frequency
13.56 MHz
Communication speed
212 kbps, 424kbps*2
Operating temperature / humidity
(under conditions without dew condensation)
-10ºC to +40ºC / Less than 90% RH
Above 40ºC to 60ºC / Less than 50% RH
Storage environment
-20ºC to +40ºC / Less than 90% RH
Above 40ºC to 70ºC / Less than 60% RH
External dimensions
17 mm x 25 mm
Thickness: 0.23 mm (board only), 0.75 mm (including components)
Mass
Approx. 0.2 g
Surface material
Polyimide (FPC circuit)
Embedded IC chip
RC-SA00
Non-volatile memory
Size (Type)
6K Byte EEPROM
User memory
249 blocks (1 block = 16 byte)
Data retention period
50 years (25 ºC), 10 years (85 ºC)
Write endurance
500,000 times (25 ºC), 100,000 times (85 ºC)
*1 Communication distance varies depending on the operating environment. These values apply in an ideal environment, without radio waves and metals in the vicinity.
*2 To utilize communication at 424 kpbs, the reader must be able to communicate at 424 kbps.