Discontinuance Notice of Provisioning and Updating the "NFC Healthcare Library"
Sony has discontinued the provisioning, any updates and validation support for NFC Healthcare Library
including current and any future OS versions of NFC reader functional electronic devices on April 28th, 2017.
If you have any questions, please contact us via the inquiry form.
NFC Healthcare Library
NFC smart phone
Multi-OS support
NDEF support
Outline
NFC Healthcare Library software enables the development of applications that allow data communication between healthcare products embedded with NFC Dynamic Tag (FeliCa Plug) and healthcare applications installed on NFC smartphones, tablets and PCs.
Features
For Android smartphone
The library has an API to develop applications for both Android NFC and Android Mobile FeliCa smartphones.
Therefore, applications that are developed using the library can be released globally.

For Windows
The library is also available for Windows. The following figures show how the NFC Healthcare Library fits into the system:
<For Windows>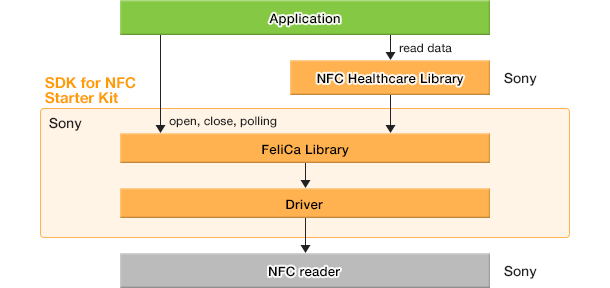 Communication with NDEF data*
The library also includes the feature to read and write data to and from NFC Forum Type 3 Tags, including cards and stickers based on NFC Data Exchange Format (NDEF).
* For Android only
List of devices supported by the NFC Healthcare Library for Android
Library
Device Type
Product
Supplier
NFC Healthcare Library
version1.2
Pedometer
FS-500A
Estera Corporation
MANPO-KEI
EX-950
YAMASA TOKEI CO., LTD.
MANPO-KEI
TH-450
YAMASA TOKEI CO., LTD.
UW-101NFC
A&D Company, Ltd.
JP700-J/E/U
AQ CORPORATION LIMITED
Active monitor
FS-700
Estera Corporation
MTN-200
Mi-700
FS-750
MTN-210
FS-720
AM500N
ACOS Co., Ltd.
Sleeping Monitor
FS-760
Scale
UC-324NFC
A&D Company, Ltd.
Body composition monitor
UC-411NFC
Blood Pressure Monitor
UA-767NFC
NFC Forum Type 3 Tag
RC-S701
RC-S710
RC-S886
RC-S887
Sony Corporation
NFC Healthcare Library
TERUMO *1
Blood glucose monitoring system
MEDISAFE FIT
(MS*FR201BA,
MS*FR201BA1,
MS*FR201BE)
TERUMO CORPORATION
MEDISAFE Fit Smile
(MS*FR501WM1)
MEDISAFE FIT VOICE*3
(MS-FRV01)
Basal thermometer
Terumo Digital Thermometer W520*3
(ET-W520DZ)
Terumo Digital Thermometer W525*3
(ET-W525DZ)
Walking Intensity Monitor
MEDIWALK*3
(MT-KT02DZ)
Thermometer
Terumo Digital Thermometer C215*3
(ET-C215S)
Blood Pressure Monitor
Terumo Digital Blood Pressure Monitor P2020
(ARM-IN Blood Pressure Monitor)
(ES-P2020DZ)
Terumo Digital Blood Pressure Monitor H700*3
(ES-H700D)
Terumo Digital Blood Pressure Monitor W700*3
(ES-W700DZ)
Pulse oximeter
FINE PULSE SP*3
(ZS-NS05)
Body composition monitor
Terumo Body Compositon monitor B100*3
(WT-B100DZ)
NFC Healthcare Library
FUJITSU CoWorCo*2
Dog Pedometer
WD-PU1
WD-BU1
FUJITSU CoWorCo LIMITED
*1 For the use of the library, the permission of TERUMO CORPORATION is required.
*2 For the use of the library, the permission of FUJITSU CoWorCo Limited is required.
*3 Sales for only Japanese market.
Case Studies
| Application | Supplier |
| --- | --- |
| Wellness Connected | A&D Instruments Ltd. |
Development Environment
Android SDK r11 or later
SDK for NFC Starter Kit <for Windows>
SDK for NFC Basic Suite [Reference Implementation]
Product Requirement
Android NFC smartphones (Android OS version 2.3.3 or later)
Android Mobile FeliCa smartphones (Android OS version 2.3.3 or later)
Windows 8 32 bit (x86) / 64 bit (x64)
Windows 7 SP1 32 bit (x86) / 64 bit (x64)
Contents
Library
Manual
Sample application (source code)