About NFC
Definition of NFC
Technology

NFC is a short-range wireless technology that enables the exchange of data among various devices that have various purposes. This technology includes multiple existing contactless IC card communication standards. NFC is intended to be built into mobile phones, personal computers, and other equipment.

Standards

The basis of NFC technology is the international standard ISO/IEC 18092 (NFCIP-1).

Industry Support

In addition to NFCIP-1, NFC is defined by specifications developed by the NFC Forum, a non-profit industry association. The specifications aim to assure interoperability between NFC devices, also between NFC devices and existing contactless IC cards.
NFC stands for Near Field Communication - a wireless communication technology operating at 13.56 MHz over a short distance of approximately 10 centimeters. This technology enables communication among electronic devices brought within close range of each other, as well as between such devices and conventional contactless IC cards. This technology is attracting much attention as an easy-to-use method of exchanging data simply by "touching" devices to each other.
NFC is derived from communication technology specified by the international standard ISO/IEC 18092 (NFCIP-1). After the establishment of NFCIP-1, NXP Semiconductors N.V. (former Philips Semiconductors), Nokia Corporation, and Sony Corporation founded an industry standardization group called "NFC Forum" in March 2004.
NFC Forum has developed a set of specifications that, in addition to NFCIP1, consider the compatibility with existing contactless IC cards. The NFC Forum has also set-up a certification program allowing device manufacturers to certify that their products conform to the NFC Forum specifications.
In the NFC Forum specifications, the Type-A and Type-B communication technologies specified in the contactless IC card international standard ISO/IEC 14443 are called NFC-A and NFC-B, respectively. The FeliCa communication technology, based on the Japanese Industrial Standard JIS X 6319.4, is called NFC-F. NFC Forum develops specifications to realize global compatibility and consistent handling of these technologies.
Related to NFC, there is also the international standard ISO/IEC 21481 (NFCIP-2). This standard covers NFCIP-1, ISO/IEC 14443 and ISO/IEC 15693. Although ISO/IEC 15693 uses the same frequency as the other standards, it is mainly applied to Radio Frequency Identification (RFID) tags used for products and logistics management.
Concept of NFC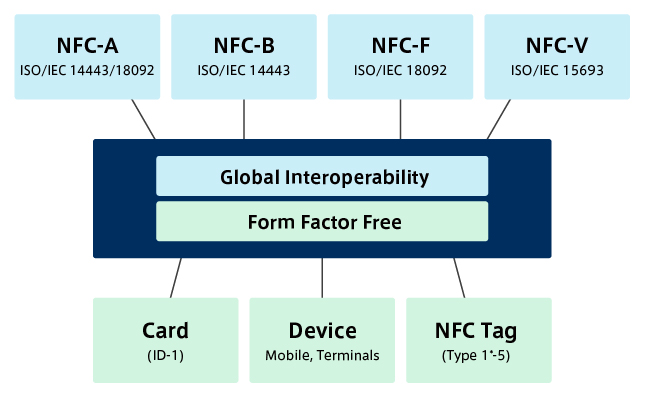 NFC has two concepts.
To provide global compatibility with international communication standards.
To allow different form factors for devices implementing NFC compared to existing contactless terminals.
One objective of NFC is to realize international compatibility among contactless IC cards by uniting the three major IC card technologies that are widely in use in various parts of the world. This will improve the convenience of such cards for users, expand the market for such cards, and promote the development of applications for them.
So far, contactless IC card-related products have been limited to the cards themselves and reader/writers (such as terminals used at retail stores). NFC is intended to make the form factors of such products more flexible, to enable the integration of NFC into mobile phones, personal computers, TV sets and other consumer devices, and to enable sticker tags with forms other than ID-1 (credit card-sized form).
NFC-F, the FeliCa communication technology, is defined as one of the communication methods specified in NFCIP-1 and by the NFC Forum. As a result, all NFC devices support NFC-F communication.
Mobile phones with NFC can exchange data with NFC-F-based IC cards and devices, Therefore, the wide introduction of NFC mobile phones in the global market can be considered as the expansion of the NFC-F infrastructure.