Features
Create your packaged solution
The products are targeted to service providers who want to offer a package solution with card or other device with contactless communication / NFC capability.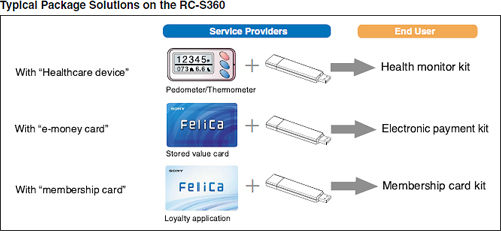 Compact and stylish
"RC-S360" is a stylish and compact reader device which isonly about 20 millimeterswide, so it is easy tocarry around together with your laptop PC."RC-S360/SH" comes withaclip, which can hold the card to the reader.

NFC (Near Field Communication) function*1
The reader has a read/write function for ISO/IEC 14443 type A / Type B cards, as well as FeliCa NFC Forum Type 3 Tag including NFC Dynamic Tag (FeliCa Plug).
*1 Application and system must be provided by the customer.